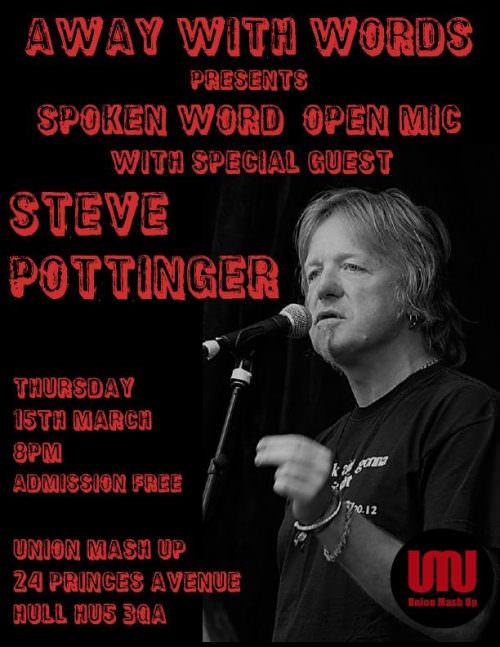 "AWAY WITH WORDS" – POETRY OPEN MIC EVENT.
the "The Ides of March" oneTHURSDAY 15th March
Doors 7.30 pm – Start 8.00 pm. Upstairs at Union Mash Up, Princes Avenue, Hull
Admission – FREE
The next "AWAY WITH WORDS" open mic evening will take place at Union Mash Up, the epicentre of the cultural earthquake that is the HU5 post code area. This event has been bringing you the best spoken word performers since long before Rosie Millard typed Hull back into her satnav. The event will henceforth be referred to as the "The Ides of March" one.
Poets, performers, comedians and spectators are welcome to the cosy intimate surroundings of the upstairs bar at Union Mash Up on Prince's Avenue, Hull.
Come along and perform your poetry, prose, comedy, jokes, satire in a relaxed and friendly atmosphere.
March special guest is the amazing Steve Pottinger.
Steve Pottinger is a performance poet who's passionate about the power of poetry to create connections between people. He believes in making an audience laugh and think and decide that poetry isn't so bad after all.
Steve has gigged up and down the country, taking his irreverent, comic, and political poetry to pubs, clubs, and festivals, entertaining audiences from Penzance to St. Andrews. Expect poems on subjects from the personal right through to the global, with a wild detour via outrageous dreaming."
'Warm, questioning, and compelling. A treat of a performer.'
Buxton Spoken Words.
'In a world crowded with hype, doubt, and egotism he speaks up for humanity.'
1000 Monkeys. Guildford.
'Accessible, intelligent, funny.
The Green Gathering.