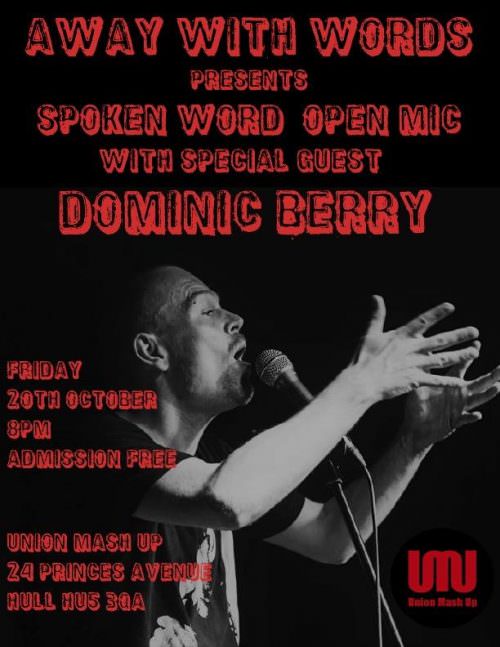 October special guest is the 2017 Glastonbury Poet in Residence Dominic Berry.
Dominic is a slam-winning poet, winner of the Manchester Literature Festival 'Superheroes of Slam' in 2009 and New York's legendary Nuyorican Poetry Cafe Slam in 2011. He has first two poetry collections 'Tomorrow, I Will Go Dancing' and 'Wizard', were published by Manchester's Flapjack Press.
Dominic is Manchester based and made his first professional poetry work, 'Lovely Fruit Salad', as an Artist in Residence at Contact in 2007. From there, his work has taken him to gigs in Germany, France, The Netherlands and USA, and tours of Canada, India, New Zealand and Australia. His awards include winning Manchester Literature Festival's Superheroes of Slam and New York's Nuyorican Poetry Café Slam. In 2016 he made his performance debut at Glastonbury Festival and his TV appearances include BBC's Greg & Celia's Festivals Highlights and Channel 4's My Daughter the Teenage Nudist.
Firmly established as Manchester's premier Queer Vegan Poet, Dominic Berry is renowned for his eloquent yet uncompromising stage shows and a desire to confront inequality. His latest collection No Tigers includes a series of poems detailing his experiences whilst working in India, plus many of the poems featured in the internationally touring show 'Playing Mortal Kombat Guarantees You Inner Calm'.
"These poems make my face hurt from smiling too much. My stomach hurt from laughing too long. And then some of them just make me hurt. Honest, real, sometimes brutal… you know these poems. You've lived them. You just never thought it possible to describe it all so perfectly." – Sophia Walker, BBC Slam Champion.
"Hilarious and moving, Berry's work crackles with energy and humanity." – Tim Clare, poet
"Whether he is fiercely flying the flag for vegans or proudly probing into the politics of sexuality, he does so with a smile on his face and a fire in his gut." – Sara Hirsch, UK Poetry Slam Champion
"Emotive, intelligent and raw… quite delicious and totally engaging." – Gwen Oakden, City Life
"Really very inspiring. I love the seriousness and the humour." – Benjamin Zephaniah, Poet