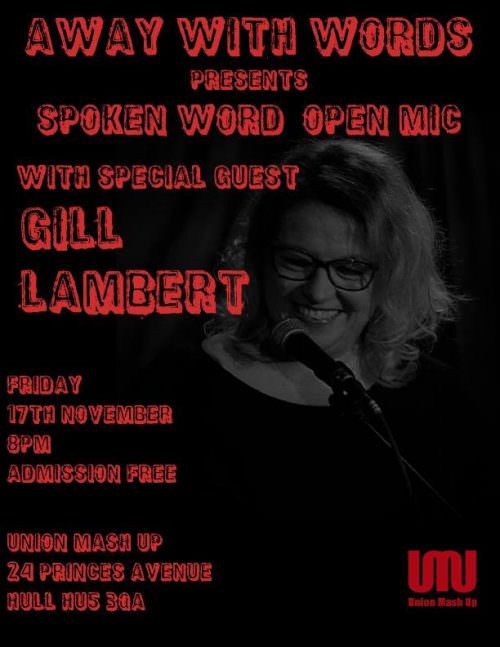 AWAY WITH WORDS" – POETRY OPEN MIC EVENT.
the "It's Friday Again" one
FRIDAY 17th November
Doors 7.30 pm – Start 8.00 pm. Upstairs at Union Mash Up, Princes Avenue, Hull
Admission – FREE
The next "AWAY WITH WORDS" open mic evening will take place at Union Mash Up, the epicentre of the cultural earthquake that is the HU5 post code area. This event has been bringing you the best spoken word performers since long before Rosie Millard typed Hull back into her satnav. The event will henceforth be referred to as the "It's Friday Again" one.
Poets, performers, comedians and spectators are welcome to the cosy intimate surroundings of the upstairs bar at Union Mash Up on Prince's Avenue, Hull.
Come along and perform your poetry, prose, comedy, jokes, satire in a relaxed and friendly atmosphere.
November special guest is Gill Lambert
Gill is a poet and trainee teacher from North Yorkshire. She draws her ideas from snatches of conversations and the world around her. Gill has been published by Indigo Dreams, The Interpreter's House and Beautiful Dragons, Paper Swans Press and Otley Word Feast Press; and on-line by The Fat Damsel, Clear Poetry , I Am Not a Silent Poet and Poetry Space.
Gill won the 2016 Ilkley Literature Festival Open mic competition and her pamphlet 'Uninvited Guests' has been published this autumn by Indigo Dreams. Gill runs the poetry night Shaken in Sheep Town and comperes at Word Club in Leeds.