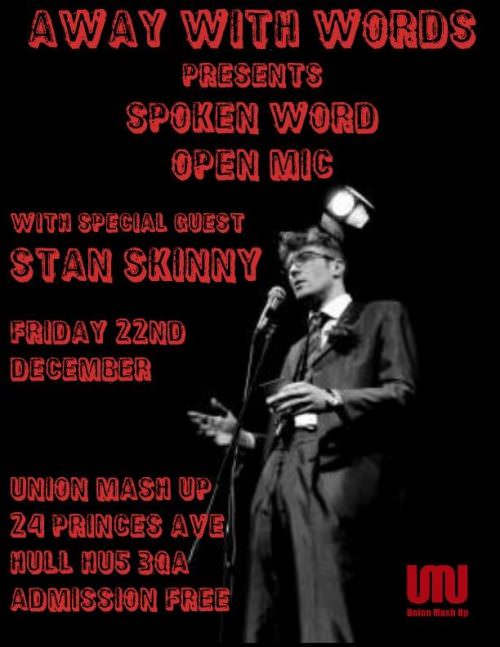 AWAY WITH WORDS" – POETRY OPEN MIC EVENT.
the "Strummer" one
FRIDAY 22nd December
Doors 7.30 pm – Start 8.00 pm. Upstairs at Union Mash Up, Princes Avenue, Hull
Admission – FREE
The next "AWAY WITH WORDS" open mic evening will take place at Union Mash Up, the epicentre of the cultural earthquake that is the HU5 post code area. This event has been bringing you the best spoken word performers since long before Rosie Millard typed Hull back into her satnav. The event will henceforth be referred to as the "Strummer" one.
Poets, performers, comedians and spectators are welcome to the cosy intimate surroundings of the upstairs bar at Union Mash Up on Prince's Avenue, Hull.
Come along and perform your poetry, prose, comedy, jokes, satire in a relaxed and friendly atmosphere.
December special guest is Stan Skinny
Stan Skinny writes poems, tells jokes and if he's having a good day, he does songs with singing and everything. He does this on stages, at festivals and people's houses including Shambala, Edinburgh Fringe, Sheffield Pride festival, the Cannock green dream, and Iain's flat. He has written loads of poems and is working on his first collection 'Dogs not allowed fire fighting equipment', info coming soon. His brilliant solo show 'Tesco chainstore massacre' debuted at the Edinburgh fringe festival 2012 to critical acclaim.
Stan is Sheffield's tallest thinnest and funniest poet with his unique and wonderfully observed writing and inimitable performance. He is a veteran of the Edinburgh Fringe and the Off The Shelf Slam Champion 2017.