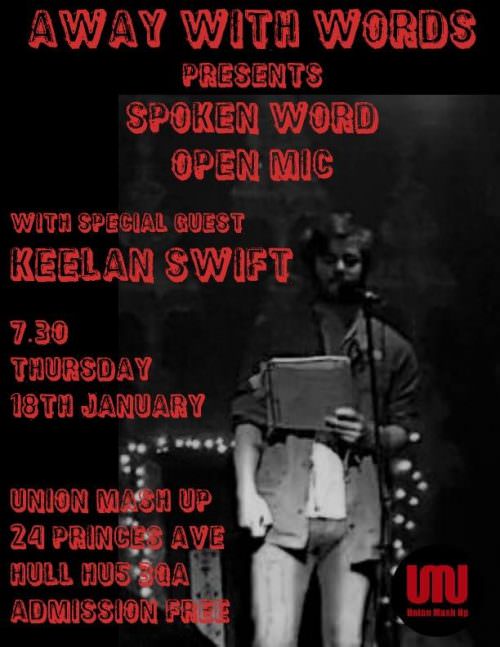 AWAY WITH WORDS" – POETRY OPEN MIC EVENT.
the "You're not cultural anymore" one
THURSDAY 18th January
Doors 7.30 pm – Start 8.00 pm. Upstairs at Union Mash Up, Princes Avenue, Hull
Admission – FREE
The next "AWAY WITH WORDS" open mic evening will take place at Union Mash Up, the epicentre of the cultural earthquake that is the HU5 post code area. This event has been bringing you the best spoken word performers since long before Rosie Millard typed Hull back into her satnav. The event will henceforth be referred to as the "You're not cultural anymore" one.
Poets, performers, comedians and spectators are welcome to the cosy intimate surroundings of the upstairs bar at Union Mash Up on Prince's Avenue, Hull.
Come along and perform your poetry, prose, comedy, jokes, satire in a relaxed and friendly atmosphere.
January special guest is Keelan Swift
Keelan is a writer, actor and poet. His first full length play is currently in production and will be performed later this year.
Keelan's poetry has been published in numerous poetry magazines and anthologies and his writing is highly rated by both readers and audiences.
Keelan covers a range of topics in his writing from the personal to the political, from the local to the national. He covers all issues with an exceptional eye and will provoke, entice and amuse with his observations.