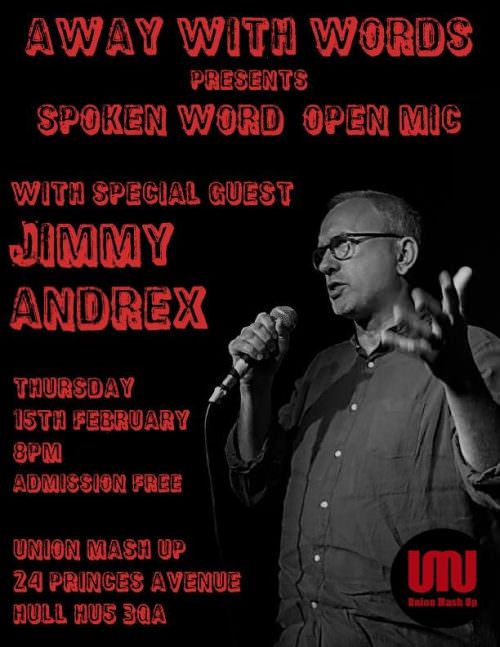 AWAY WITH WORDS" – POETRY OPEN MIC EVENT.
the "Whatever Happened to the Poets in Residence?" one
THURSDAY 15th February
Doors 7.30 pm – Start 8.00 pm. Upstairs at Union Mash Up, Princes Avenue, Hull
Admission – FREE
The next "AWAY WITH WORDS" open mic evening will take place at Union Mash Up, the epicentre of the cultural earthquake that is the HU5 post code area. This event has been bringing you the best spoken word performers since long before Rosie Millard typed Hull back into her satnav. The event will henceforth be referred to as the "Whatever Happened to the Poets in Residence?" one.
Poets, performers, comedians and spectators are welcome to the cosy intimate surroundings of the upstairs bar at Union Mash Up on Prince's Avenue, Hull.
Come along and perform your poetry, prose, comedy, jokes, satire in a relaxed and friendly atmosphere.
February special guest is the fantastic Jimmy Andrex.
Without a clue what he's doing or why, Jimmy performs all over the UK either with or without music.
Black Horse Poet of the Year on two occasions, he has published two collections, Gormless (2011) and Leet (2013), along with three albums of poems to music, Cresties (2015), Puddled & Kallin (2016). The longer version of Cresties was featured last year at Wakefield Litfest and the prestigious Ilkley Literature Festival in 2015. October 2015 also saw the premiere of his first play 3 Characters at the Leeds 10×10 Drama Festival and his collaboration with RCM composer Amy Bryce, based on the story of The Green Children of Woolfit was premiered at the Leeds Lieder Festival in April 2016.
Co-Founder (with John Irving Clarke) of Red Shed Readings, he is also compere of Holmfirth's legendary Hot Banana Open Mic and an occasional presenter on elfm's Love the Word.
Described by Steve Pottinger as "angry, clever and articulate," his wife thinks he should just tidy up that pile of books next to the bed. A new album, Northern Beat Poetry, a series of 12 poetic rants about the world which at times approaches what passes in some circles for coherence, was released in March 2017.
August 2017 saw him appear at the Edinburgh Fringe, in Twisted Tongue as well as performing poems to music next to a carpark where a stunt motorbike team were demonstrating burnouts. Ted Hughes never did that.
Facebook Event:
https://www.facebook.com/events/2087484168152172