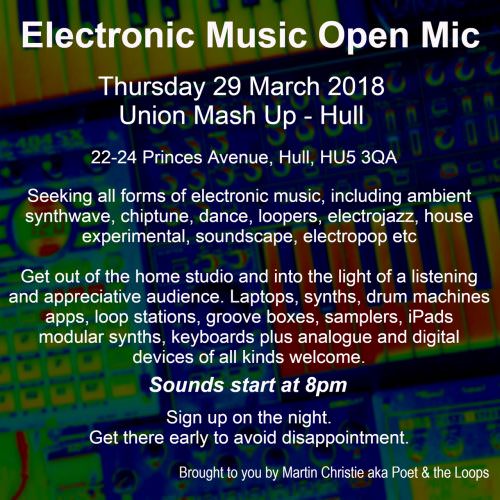 Doors 19.30 performance starts 20.00
"The all Electronic Music Open Mic & Forum comes to Hull following the successes of the UK wide tour. Hosted by Martin Christie (aka Poet & the Loops) lets discover the sounds of electronic Hull at the fabulous Union Mash Up.
Seeking all forms of electronic music including: dance, ambient, noise, electropop, techno, glitch, electrojazz, chiptune, hip hop, loopers, improvised, live coding, trance etc
Get out of the home studio and into the light of a listening and appreciative audience. Laptops, synths, drum machines, loop stations, groove boxes, sequencers, samplers, iPads, modular synths, keyboards, decks, analogue and digital devices of all kinds welcome.
Meet other electronic music makers, share ideas and collaborate. There will be ample time and space to discuss this form of music making.
Slots are up to 15 minutes (including set up and pack down times). Get in touch with Martin Christie on Facebook or by email: martinchristie2010@gmail.com for more details.
Sorry – no acoustic guitars – unless they are being used to generate soundscapes or some other style of music in keeping with the night. This is an acoustic free zone (there are already some super nights in Hull to suit acoustic musicians)."