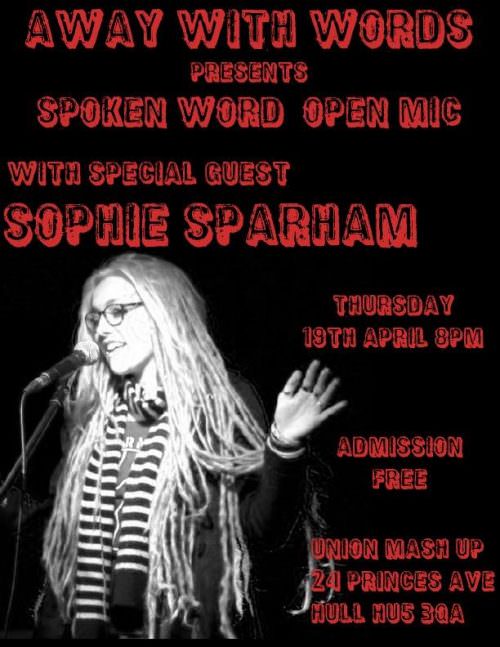 "AWAY WITH WORDS" – POETRY OPEN MIC EVENT.
the "Ask an Atheist" one
THURSDAY 19th April
Doors 7.30 pm – Start 8.00 pm. Upstairs at Union Mash Up, Princes Avenue, Hull
Admission – FREE
The next "AWAY WITH WORDS" open mic evening will take place at Union Mash Up, the epicentre of the cultural earthquake that is the HU5 post code area. This event has been bringing you the best spoken word performers since long before Rosie Millard typed Hull back into her satnav. The event will henceforth be referred to as the "The "Ask an Atheist" one.
Poets, performers, comedians and spectators are welcome to the cosy intimate surroundings of the upstairs bar at Union Mash Up on Prince's Avenue, Hull.
Come along and perform your poetry, prose, comedy, jokes, satire in a relaxed and friendly atmosphere.
April special guest is the absolutely brilliant Sophie Sparham.
Sophie Sparham is a performance poet and writer from Derby. She is currently editing her second young adult sci-fi and fantasy novel and has just released her first poetry book 'Please Mind The Gap'.
Her poetry mainly focuses on political and social subjects, such as depression, LGBT and women's issues. She has performed all around the UK; including festivals such as Y Not, Shambala and the Opera House Stage at Rebellion, the UK's biggest punk festival.
Sophie's work has appeared in the People's History Museum in Manchester, as part of the exhibition 'Loitering with Intent'. Last year she was featured as one of the UK Young Artists with her collection 'Dead Air: If they won't place us in the history books, we'll write our own stories'. This allowed her to perform poetry in unusual places from market halls to libraries, educating people about forgotten revolutionary figures from history.
Sophie also does creative writing workshops for schools and vulnerable adults. She has worked with QUAD Derby, Leicester City Football Club Community Trust, Women's Work, Padley Centre, Nottingham Poetry Festival and various schools, both Primary and Secondary.
Sophie has worked at various media companies; including interning at Kerrang Radio! and The Prison Radio Association. She currently works on a freelance basis for Overtone Productions, creating and pitching ideas for BBC Radio. Her documentary St Pancras Pianos has recently been aired on BBC Radio 4.